Eritrea at a Glance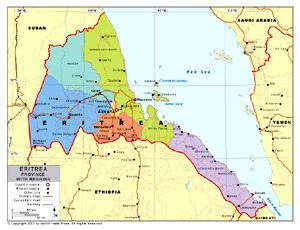 PRE-HISTORY
The earliest hominoid remains in Eritrea date from two million years ago, placing the land near the dawn of humankind on the planet. Stone tools from Abdur-at 125,000 years old-are the earliest, best-dated evidence for human occupation of a coastal marine environment.
Tools found in the Barka Valley from 8000BC are the first evidence of human settlement here. Rock paintings have been found in several sites dating from 2000BC. So far, fifty-one prehistoric sites have been identified across Eritrea, from Karora in the north to Beylul in the southeast, but many more are expected to be discovered in the coming years.
The earliest inhabitants of Eritrea were probably related to the central Africa pygmies. They later co-mingled with Nilotic, Kushitic, and Semitic peoples who migrated here from as far away as the Nubian lowlands. The legendary land of Punt so referred to by the Egyptian pharaohs was the target of major expeditions during 2920-2649 BC; for the area was rich in gold, frankincense, myrrh, ostrich feathers, ebony, ivory and other precious commodities.