Civil Code of State of Eritrea 2015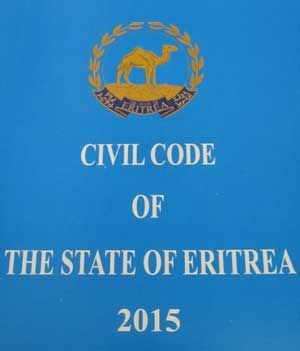 PRELUDE
The process of building a civilized nation strong in all its aspects where peace, justice and tranquility prevail requires the existence of laws appropriately defining the rights and duties of the members of the society. One such law is the Civil Code. Proclamation No. 2/1991 enacted the Transitional Civil Code of Eritrea on 15 September 1991 having made modest amendments, replacements and deletions to certain provisions of the Civil Code which was in force in Eritrea at the time when the country was fully liberated.
The need to modernize our laws to meet domestic as well as global developments became apparent at the time when the Transitional Codes remained in force. That the law should emanate from within, while at the same time take into account our unity in diversity, and that it should reflect our national values and norms is one of the lessons of our accumulated experience.
Moreover, our experience required that our laws be written in a language easily understandable to the public so citizens can continue to be law-abiding as well as understand and exercise their rights and duties. Having due regard to the experience and lessons so far gained, this Civil Code of the State of Eritrea has attempted to accommodate the abovementioned interests and is now being presented to be operative after having passed through long process of drafting.
The primary objective of the Civil Code is to enable persons to clearly understand their rights and duties from the moment of birth to death and provide binding rules to all their important activities. Where damages result from failure to follow these binding rules, this Code aspires to take back the victims to the position where they were prior to the occurrence of the damage. Secondly, the Civil Code provides protection, unity and harmony to the natural and basic unit of the society – the family. Thirdly, by providing for simplified and reliable economic transactions, it protects interests of citizens thereby insuring national interest.
In general, this Civil Code of the State of Eritrea is expected to contribute to the establishment of order, stability, peace and justice in the society and also ensure its sustainability.