Ethiopian Airlines resumes flight to Asmara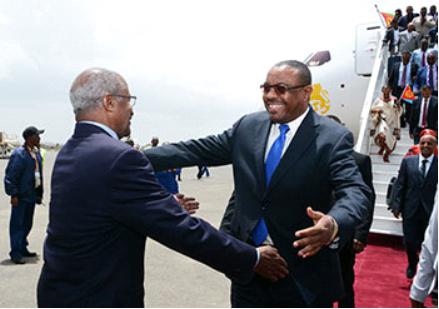 Asmara, 18 July 2018- According to the Joint Declaration of Peace and Friendship signed by the Governments of Eritrea and Ethiopia on 9 July in Asmara, the Ethiopian Airlines has resumed its flight from and to Asmara-Addis Ababa today, 18 July.
465 passengers of the inaugural flights of Boeing 787 and 737 which include higher Ethiopian government and Ethiopian Airlines officials were accorded warm welcome by a number of higher Eritrean government officials including Mr. Osman Saleh, Minister of Foreign Affairs, Mr. Tesfaselassie Berhane, Minister of Transportation and Communications and the people of Eritrea.
Passengers include the former Ethiopian PM Hailemariam Desalegn, Prof. Afewerk Kasu, State Minister at the Ministry of Foreign Affairs of Ethiopia, Mr. Tewelde Gebremariam, CEO of Ethiopian Airlines, as well as a number of investors, businessmen, artists, journalists as well as individuals.
Upon arrival, Mr. Hailemariam Desalegn stating that it gives great joy to see the peoples of Eritrea and Ethiopia express each others' love, underscored that the friendship and cooperation that has began will make up to the lost opportunities of the last 20 years.
Mr. Tewelde Gebremariam, CEO of Ethiopian Airlines on his part stating that the resumption of air links will play a critical role in boosting the trade and tourism sectors between the two countries, said that gauging its significance the Ethiopian Airlines will begin flights to Massawa and Assab in the near future.
It is to be recalled that, Eritrea and Ethiopia have signed a five points Joint Declaration of Peace and Friendship on 9 July in Asmara and that one of the five items of the agreement is "Transport, trade and communications links between the two countries will resume; diplomatic ties and activities will restart".
Telecommunications service between the two countries has already reopened starting from July 10.