Exemplary tree-planting initiative by an elderly couple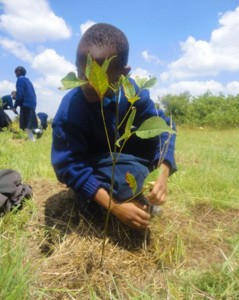 Shaebia | They are a husband and wife in their 70s. Mr. Hagos Keshi Drar and Mrs. Letay Kiflay are exemplary farmers who devotedly work in planting trees in their area, Azien. The couple started to plant trees in 1993 and thereafter has continuously planted tens of thousands of trees in different areas and institutions for free. Despite the distance they travel to get seedlings, they continued their effort believing that planting a tree in the name of the martyred is a noble gesture.
Our martyred children and brothers made independence a reality; so, we have to fulfil our duty by contributing what we could and by transferring it to the coming generations. I, being a farmer, have to play my role in planting trees so as to protect the land, said Mr. Hagos. The Mr. Hagos family conducts the plantation activities almost alone; except during school days when some students help them in digging. Regarding bringing seedlings from different areas, Mr. Hagos does it by himself. I don't give up when I didn't get seedlings in the nursery nearby; sometimes I travel even to Asmara, he said.
The couple plants the trees in safe areas such as schools, martyrs cemeteries, kindergartens, health centers and the like. Since we plant the trees in the name of our martyrs, they have to grow properly and well protected, he said. The Ministry of Agriculture provides him with seedlings but he covers his transportation expenses by himself when he travels to remote areas looking for seedlings. It was reported that he once planted about 65,000 trees which are in a good condition at the present. He usually visits every tree he planted to make sure that it is growing properly; if not he replaces it. These trees were planted in the name of the 65,000 heroes martyred in the war for liberation.
Regarding those who were martyred in the woyane invasion, he planted another 20,000 trees. However, this doesn't indicate that he has only planted 85,000 trees. Im always doing my job whenever there is a chance and a suitable place for trees, he explained. Being a farmer, he has also to do his personal farming activities especially during the rainy season. But he prefers to exert more effort during summer in planting trees. We dont have any problem regarding our farming, because my comrades help us in our private farm activities. They do everything possible for us, because they realize the importance of our tree planting activities, Mr. Hagos elaborated. He continues to plant a number of trees every year. For example, the plantation areas of Endageiorgis and Azien, in Maekel region, are good example of his endeavours. The residents of the area helped him in digging and he planted trees which are now in a good condition. He also planted an additional 500 seedlings in a school. Seeing him exerting much effort, a member of the Eritrean Defense Forces, Mehari Ghede, brought his unit and helped him greatly in planting and digging.
The 78 years old national is ready to put his effort in areas that could be well-protected. I will continue to do my job as long as I am alive, he explained. In a world of climate change and desertification, individual initiatives such as of these exemplary couple are to be recommended. His wife, Mrs. Letay, is his all-time supporter.