In the Blue Villa at the Orphanage No One is Ever Home Alone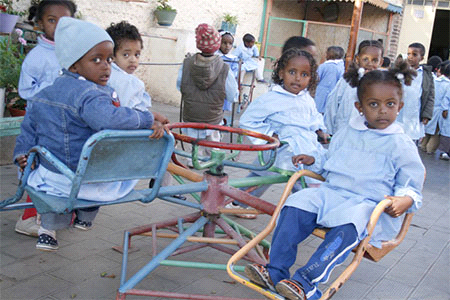 by Nemron Yohannes Iyassu | The Eritrean War for Independence and the 1998-2000 Ethiopian-Eritrean Border War left deep marks on the society. Thousands of soldiers lost their lives, countless innocent civilians were displaced, maimed, and killed, villages and homes were destroyed. The disasters of war have led to severe social problems, including broken families and many orphans. For many single-headed families, predominantly led by widows, raising their children alone is stressful. In particular, they face considerable economic, physiological and social challenges.
In Eritrea, while children were left as orphans largely due to war and its consequences, there are other causes, albeit rare, including rape and underage mothers. The Ministry of Labor and Human Welfare (MLHW) has strict policies in regard to orphans. The case of abandoned children, street children, and parentless children is something that the MLHW approaches with great care. Once orphans or abandoned children are located, local authorities and the Ministry of Health work together to establish the child's general background information.
Quite often, local communities play an important and helpful role by notifying the police when an abandoned child is located. The child is then taken to the hospital for a health check-up. Once his/her health has been ensured, the child is transferred to the orphanage. The Ministry's priority, in addition to extending needed care and attention, is to attempt to reunify the child with close relatives, if any can be located.
In Eritrea, the adoption of children is not common. However, the MLHW has sought to encourage families to adopt through raising awareness. Generally, children are adopted through a legal adoption process or the foster care approach. Adoption requires the fulfillment of a number of important and detailed criteria, including having adequate financial resources (e.g. certain amount of money in the bank) and other requirements to ensure the child's welfare after adoption. Additionally, for an adoption to be legal it must be approved by a court of law.
While residing in the orphanage, children are raised with utmost love and care. The orphanage, in partnership with the MLHW, provides children with access to food, shelter, sanitation, clothing, education (pre-elementary level), recreational activities, love, affection, care, and protection. Financial support is provided by the Ministry of Finance.
Passing through the main road to Godaif, one can hear the discreet cheers of children. As you enter the premises of the Ministry, you instantly notice the large, open spaces, tall trees, thick bushes, colorful flowers, and serene, peaceful atmosphere. The orphanage is located in the west wing of the Ministry, with a blue villa, surrounded by trees and flowers, home to the orphans. Their "families" are the employees of the MLHW, with caregivers acting as "mothers" and "fathers". They do their job with love, respect, and deep dedication.
While adopting is rare, the habit of visiting orphanages and extending material assistance are quite common among Eritreans, especially young people. Visitors provide gifts to the children, spend hours playing with them, read them books, help them with preschool work, and engage in various other activities to entertain them. In the blue villa, no one is ever home alone.
At age 6, children leave the orphanage and move on to group homes. Group homes are unique, and there are several throughout the country. These homes aim to allow children to grow up with a sense of "normalcy" and within an "ordinary" or "traditional" family setting, as well as enable children to benefit from community resources as they grow up. Importantly, the group homes also try to impart important family values, norms, and lessons that are dear to the Eritrean society and identity.
Generally, retired parents or volunteer parents assume the responsibility of caring for orphans. The Ministry examines the background of all potential adoptive parents, and extends financial and housing support to families that are approved to adopt children. When children are placed in adoptive care, efforts are made to ensure they are placed within their
home regions or villages. This can help them trace their origins as they grow up. Encouragingly, families and the surrounding community are accepting and welcoming. They do not exhibit discrimination toward orphans, as the Eritrean people tend to respect others and tolerate differences.
An important advantage of living in a group home rather than in an orphanage is the lesser number of children. Group homes do not have more than 12 children; they often "only" have 5 to 10 children. In this relatively smaller group setting, children can begin to learn the importance of family roles. Apart from household responsibilities like cleaning or other chores, they also receive more attention.
For example, they can experience how it feels when your mother helps you with your homework and praises you for your good school report. It also surely feels good when an older brother invites you to play football with the neighborhood kids. Getting into a fight with a sibling for no apparent reason, only to later make up, get along, and crack jokes is also a common part of growing up.
Orphans slowly become reintegrated into society, they increasingly participate in social life, and they generally lead "normal" lives. Going to school with friends, fooling around, making mistakes, getting into trouble, being punished, but still feeling loved – this is what they gain by being part of a family. Once they complete high school, which occurs when most orphans are around age 18, they head to Sawa. There, they join an even bigger family, made up of youngsters from all over the country.
Fortunately, I got the chance to visit the group homes in Himberti and Embaderho with two other social workers. What I saw was heartwarming and touching. I thought deeply about the backgrounds of the children and what they all might have been through. At first, they were a little shy but they soon welcomed me with tons of love, as is so common in Eritrean families. Then they showed me around their house and their garden. Proudly, they pointed out all of the things that they had planted on their own. Guava, beans, corn and more – you can find a variety of green vegetables in their beautiful garden. They also showed me a family of ducks that they care for, as well as some pet dogs and a rooster. What amazing children!
The Government and people of Eritrea understand that children should be encouraged to develop their abilities and be creative, that they should be loved and feel wanted, and that they should know they are an important part of the society. Group homes are a reflection of this understanding.
Eritreans belong to different ethnic and linguistic groups. Despite their differences, however, they maintain a strong sense of community. They live in harmony, not paying attention to differences and frown on
discrimination or intolerance. If anything, they learn from their differences and are united in their diversity. It doesn't matter where you come from, what you went through, or if you're rich or poor. People will always lend you a helping hand, instead of attempting to degrade you. In Eritrea, it is normal to be different. And that is what makes this country so strong. Respect and tolerance always defeat hate and discrimination.
In the blue villa at the orphanage, no one is ever home alone. In many ways, Eritrea is the biggest blue villa ever seen.
Shabiat.com