Interview with Mrs. Luul Gebreab, former Chairperson of the National Union of Eritrean Women (NUEW)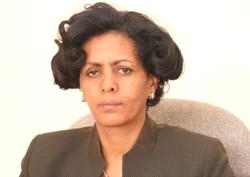 March 8, is the day the Eritrean women asses their past and plan for the future. What is the situation of NUEW at this time?
The National Union of Eritrean Women is celebrating its 25 years. It is continuing with the aims which it had started during the struggle like working to ensure the freedom of the country and to strengthen the equality of women.
After independence the attention has been on the second aim that is the active participation of women on the political economic social and cultural aspects. It also works in ensuring equal partition of the natural resources of the country. There are branches of NUEW in the six Zobas, organized within 54 sub-Zobas with 1,559 villages and 3,645 groups. In the Diaspora it has 25 branches. All in all NUEW has 200,000 members.