Keren : Its Origin And Development
by Mebrahtu Abraham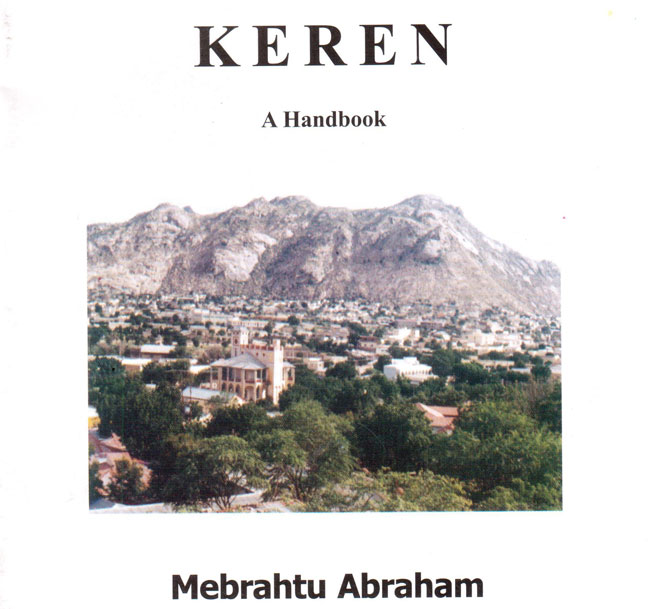 by Alemseged Tesfai | It is not often that one comes across young Eritreans with the passion and the drive to research and write on topics of history. Mebrahtu Abraham was an exception. In less than a year with the History Project of the PFDJ. He made a profound impression on all who worked with him and left a wealth of oral history interviews with prominent people on various aspects of Eritrea's remote and recent past. His tenure at the cultural Assets Rehabilitation Project of Eritrea (CARP) was also marked by exemplary professionalism and effectiveness.
A man of very few words and quiet efficiency. Mebrahtu's personal plans were not limited to the chores and responsibilities assigned to him in the normal course of his duties. He had a penchant for collecting rare historical documents and for immersing himself into research on sections of Eritrean history that other writers may normally overlook. While working as a project administrator with CARP, he also doubled as a principal researcher for the now famous coffee-table picture book. Asmara: Africa's secret Modernist City. In the course of this research, he developed the side interest of studying the history of Asmara, street by street. In an aimless ride that we both took around Asmara during his illness. I was amazed to hear him recount facts and figures about spots and corners in the city where incidents of history had taken place. One can only imagine what that endeavour would have led him to.
The present handbook on Keren is based on material collected by Mebrahtu in the year or two immediately following independence, where he had served as a history instructor. His other subsequent duties, including a two year service as a remobilised combatant during the 1998 – 2000 wars with Ethiopia, had rendered further in-depth research on the topic impossible. It was only in 2006 that he decided to go back to it and, at least, give it a skeletal format. By then, his health had deteriorated considerably and he had to fight extreme pain and time to take his project to an acceptable level. The result is this handbook, unfinished and as he left it, but still a valuable contribution to an understanding of some of the characteristics that make Keren special and remarkable.
Mebrahtu Abraham died on 17 October 2006 at the age of 38, leaving behind him, a wife and a three year old daughter. His tenacity and dedicated scholarship are sorely missed.