Leaders of Eritrea, Ethiopia and Somalia Hold Tripartite Meeting in Asmara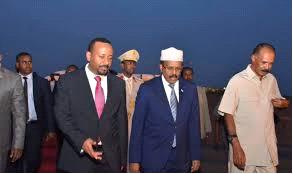 President of the State of Eritrea, Mr. Isaias Aferki, Prime Minister of the Federal Democratic Republic of Ethiopia, Dr. Abiy Ahmed, and President of the Federal Republic of Somalia, Mr. Mohammed Abdullahi Mohammed have conducted tripartite summit in Asmara on developing relations and cooperation as well as on issues of interest to the three countries.
Considering that the peoples of Eritrea, Ethiopia and Somalia share close geographic, historical, cultural and religious ties with a common interest, the leaders discussed on the need to bolster the historical ties to achieve the lofty objectives and respect each other's independence, sovereignty and territorial integrity.
The leaders also issued joint declaration on Comprehensive Cooperation between Eritrea, Ethiopia, and Somalia. The four pillars of the joint declaration included that the three countries bolster comprehensive cooperation that advances the goals of the peoples of the three countries; build close political, economic, social, cultural and security ties; work in coordination to promote regional peace and security in addition to establishing a Joint High-Level Committee to coordinate the efforts in the framework of the joint declaration.
The joint declaration was signed by President Isaias Afwerki, Prime Minister Dr. Abiy Ahmed and President Mohammed Abdullahi Mohammed.
Foreign Minister Osman Saleh of Eritrea, Foreign Minister Workneh Gebeyehu of Ethiopia, and Foreign Minister Ahmed Isse Awad of Somalia jointly said that the Declaration on Comprehensive Cooperation between Ethiopia, Somalia and Eritrea took into consideration the geography, history, culture and religion ties as well as vital common interest of the peoples of the three countries.
Speaking to the national media outlets, Presidential Advisor Yemane Gebreab said that the tripartite summit was a continuation of the prevailing developments in the region and the effort to strengthen the vision of friendship and cooperation in the Horn of Africa.
Mr. Yemane went on to say that the current development came as a result of the heavy sacrifice the peoples of Eritrea, Ethiopia and Somalia have paid and effort will be made to include Djibouti, Sudan and South Sudan in the program.
Meanwhile, Prime Minister Dr. Abiy Ahmed and President Mohammed Abdullahi accompanied by President Isaias Afwerki visited the 2018 Eritrean National festival at the Expo compound