President Isaias Afwerki's Speech at Dinner hosted in Honour of President Salva Kiir and his delegation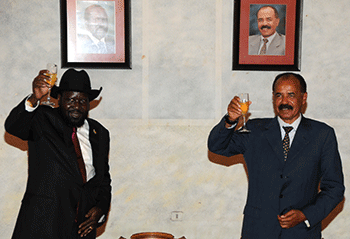 Your Excellency General Salva Kiir Mayardit
President of the Republic of South Sudan,
Distinguished Members of the Delegation,
Ladies and Gentlemen,
Allow me to take this occasion to welcome – again – Your Excellency and your distinguished delegation to this country on behalf of the people and Government of Eritrea.
The bond between the peoples of South Sudan and Eritrea is distinct from other normative or ordinary ties.
This special bond was indeed nurtured through vigorous solidarity in a common struggle for justice and liberation; a colossal task that had exacted precious sacrifices of heroes and heroines.
The government and people of Eritrea are proud for their participation in this endeavour in a gesture of brotherly solidarity.
Mr. President,
Ladies and Gentlemen,
The struggle for justice and liberation is inherently onerous. But, the struggle, challenges and trajectory of nation building are much heavier.
The people of South Sudan have asserted their liberation through precious sacrifices. But due to external subversion and internal discord, they were embroiled in a relentless spiral of strife and crisis soon after independence as they embarked on the heavy task of nation building. This is extremely distressing. As it happens, the mission of liberation has yet to be fulfilled.
The people of Eritrea will stand, as ever, on the side of, and in solidarity with, the people of South Sudan until and beyond the achievement of the mission of liberation.
I wish success to the domestic efforts that are being conducted under the leadership of the SPLM and Your Excellency to overcome the numerous challenges that the country is facing. In this respect, I urge the people of South Sudan to nurture and consolidate ties of friendship and cooperation with all the peoples of the Horn of Africa in general and with the people of the Sudan in particular.
For our part, we shall continue to shoulder our responsibilities to strengthen our joint efforts and cooperation programmes – modest as they are – in various matters and sectors.
Let me again wish you, Mr. President, success in your current visit and enduring peace and prosperity to the people of South Sudan.
I thank you