Statement by Ms. TekeaTesfamicael
President of the National Union of Eritrean Women
During the 63rd Session of the Commission on the Status of Women
New York, 14 March 2019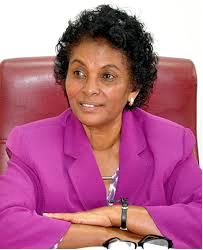 Madame Chair,
Excellencies,
Distinguished delegates,
On behalf of the Government of the State of Eritrea and the Eritrean women, I am honoured to address the 63rd session of the CSW.
I pay tribute to all women who fought and continue to fight for gender equality and create a better future for all; and to the Eritrean women whose enormous sacrifices in the struggle for liberation and nation-building have become a defining character of Eritrea.
Madame Chair,
As we embark on the 25-year mark of the Beijing declaration next year, this year's CSW should have a decisive role towards accelerating our efforts for gender equality. We have made progress in developing normative and legal frameworks for the empowerment of women and the protection of their rights at national and international levels. However due to the lack of social protection infrastructure and social security, progress remains uneven. Without enhancing our investment in this area the vision of Beijing will remain elusive. It is within this context that this year's theme becomes timely.
Madame Chair,
Eritrea has made significant progress in creating adequate access to public services and sustainable infrastructure to all, especially those who have been historically disadvantaged. The Government promotes gender equality and uses the productive potential of women as a necessity for ensuring socio-economic progress.
Access to sustainable social infrastructure; services; and social protection such as health, education, food security, legal protection and economic empowerment are critical not only for the advancement of women but to unleash the national potential.
To this end, the government has developed targeted support to women through policies and programs. Let me highlight some of the work that is being done.
1. On education: The government and civil society organisations are implementing innovative solutions and incentive oriented projects, to increase enrolment and retention of girls and women in schools. These include affirmative action in higher education, free boarding schools, sanitation facilities, including free distribution of sanitary pads and day care centres in schools for teachers. Moreover, an alternative opportunity is provided through vocational training. As a result of this educated women have become active participants of the workforce.
2. On health: The Government of Eritrea in collaboration with all stakeholders is implementing promotion, prevention and curative programs. Maternal and child health services are given as part of the primary health care packages. In the past two decades, efforts have been made to promote equal access and quality health services.
3. Women's economic empowerment remains a significant aspect of Eritrea's economic policy. Based on its policy of equitable distribution of wealth, Eritrea's developmental focus has been on bridging the gap between urban and rural areas. The emphasis on this has been on building infrastructures and access to public services to support rural women with cooperative farming, saving and micro-credit schemes and programs targeted at female-headed households. One other additional critical initiative is to ensure that women have equal access to land.
4. On employment: The policy dictates equality between men and women. There are Labor Proclamations against discrimination in the workplace and equal access to employment.
Immediately after independence, the colonial laws that discriminate against women were repealed and amended. All subsequent issued laws were founded on the principle of equality.
Madame Chair,
Despite the efforts, many challenges remain towards achieving gender equality as a result of discriminatory social norms, institutional capacity and regional dynamics which for the past two decades hindered peace and economic progress in the region.
Last year, countries in the region agreed to end conflicts and embarked on regional cooperation for peace and development. We are confident that the evolving regional dynamics will have far-reaching positive results for the nations in the region and economic empowerment of all women and girls. We, Eritreans, are determined to work with all the 4 partners to make peace and security sustainable and ensure that every child, woman and man enjoys a dignified life.
Thank you!