Underwater Cultural Heritage in Eritrea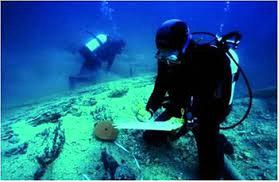 by Isaias Tesfazghi | Eritrea's maritime environment is rich both in marine biodiversity and underwater cultural heritages. Due to its strategic location, the Red Sea has been an important trade route between the Mediterranean and the Indian Ocean. One of the ancient trade centers in the Red Sea was the port-city of Adulis, located 56 kms  southeast of Massawa.
The ancient city of Adulis had trade links with parts of the Mediterranean (Rome and Greece), Indian Ocean (India), and the Far East (China). Then,following the decline of Adulis in the 7th C.AD, the Dahlak Islands became an influential trade center. Along with the introduction of Islam a civilization started to flourish in the Dahlak. There are traces of the civilization such as the necropolis in Dahlak Kebir, 365 cisterns and wells and other structures awaiting thorough research. The archipelago consists of various ancient as well as modern terrestrial and underwater cultural heritages.