Women's day Commemorated Nationwide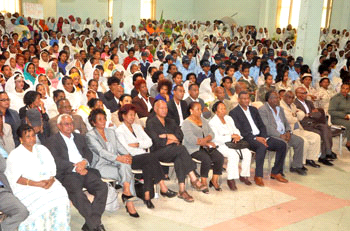 shabiat.com | March 8, International Women's Day, was commemorated nationwide today under the theme "Eritrean Woman: Guarantor of Sovereignty and Sustainable Development". At the event that was held at the Expo Compound in Asmara, Ms. Alem Belay, Chairwoman of the NUEW branch in the Central region, stated that this year's International Women's Day is commemorated at a time in which the Eritrean women are emerging to a new chapter in their history overcoming various harmful practices through concerted actions and strengthening organizational capacity.
Major General Romodan Osman Awleyay, Governor of the Central Region, paid tribute to the Eritrean women's vital contributions to the success of the armed struggle for independence and safeguarding national sovereignty as well as the decisive role they have been playing in the national development drive. The Governor further called on the Eritrean women to exert level best efforts so as to cope up with the new technological breakthroughs.
At the occasion different awards were handed over to outstanding female students who demonstrated educational excellence.
Similarly, International Women's Day was commemorated in the Southern region in Kudo-Abur, Emni-Hayli sub-zone, at regional level highlighting the achievements registered in the sectors of health and education.
International Women's Day was also commemorated in the Southern Red Sea region in which Maj. Gen. Humed Karikare, Commander of the Eritrean Navy and Eastern Command, Ambassador Mohammed-Seid Manaty, Governor of the Southern Red Sea region, village elders and army commanders took part.
Meanwhile, 700 members of NUEW from Asmara and its environs have in connection with March 8 visited development sites in Gahtelay and encouraged nationals that are engaged in the development undertakings.
Pointing out that what they have observed during their visit to Gahatelay is the reflection of the efforts that have been exerted to ensure food security as well as provision of sustainable potable water supply, the visitors recommend that nationals to develop the culture of visiting development sites at their convenient time.
The event in which Ms. Askalu Menkorios, Minister of Tourism and Ms. Tekea Tesfamicael, President of the NUEW, took part was highlighted with cultural shows.